Domaso
Domaso, an ancient fishing village, today a dynamic and hospitable tourist center. The strategic position, the long beach and the ever-present wind make Domaso the ideal destination for windsurfers. The "breva" wind is light in the morning and stronger in the afternoon, and offers optimal conditions for all levels.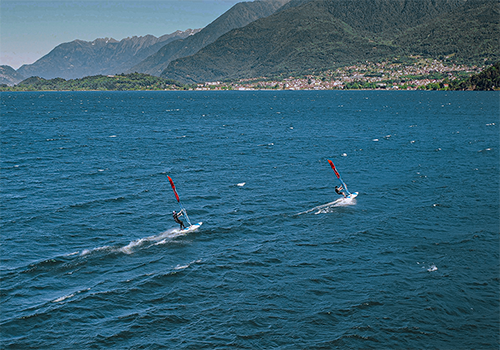 Windsurf

Soul Surfer
The Soul Surfer center is located directly on the beautiful Domaso beach in a breathtaking natural landscape. Very well organized in a large green area, it is structured in specific areas used as reception, changing room, toilets, showers, boxes for storing boards and sails ... Thanks to the best equipment and the great teaching experience, the Soul Surfer center, wich is associated with the VDWS (German Nautical Sports Federation) gives you the chance to obtain the international license. At the Soul Surfer the quality of services is guaranteed: courses, lessons, hire, purchase, assistance ...
Watersportcenter Domaso Reception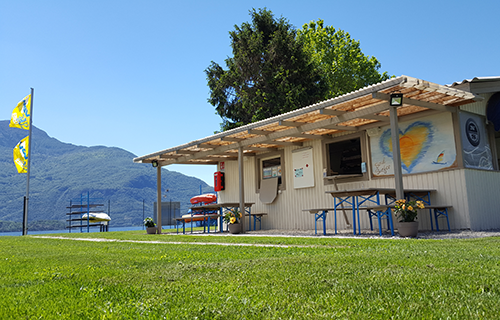 Storing Surf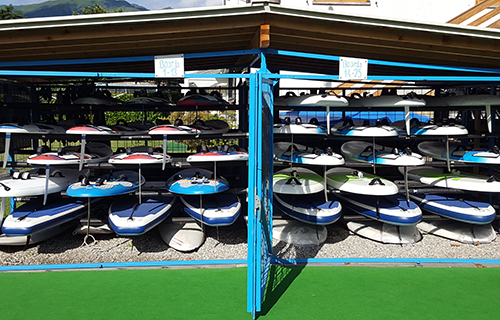 Sails Storage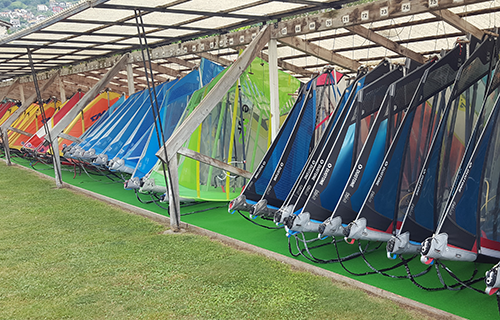 Windsurf Team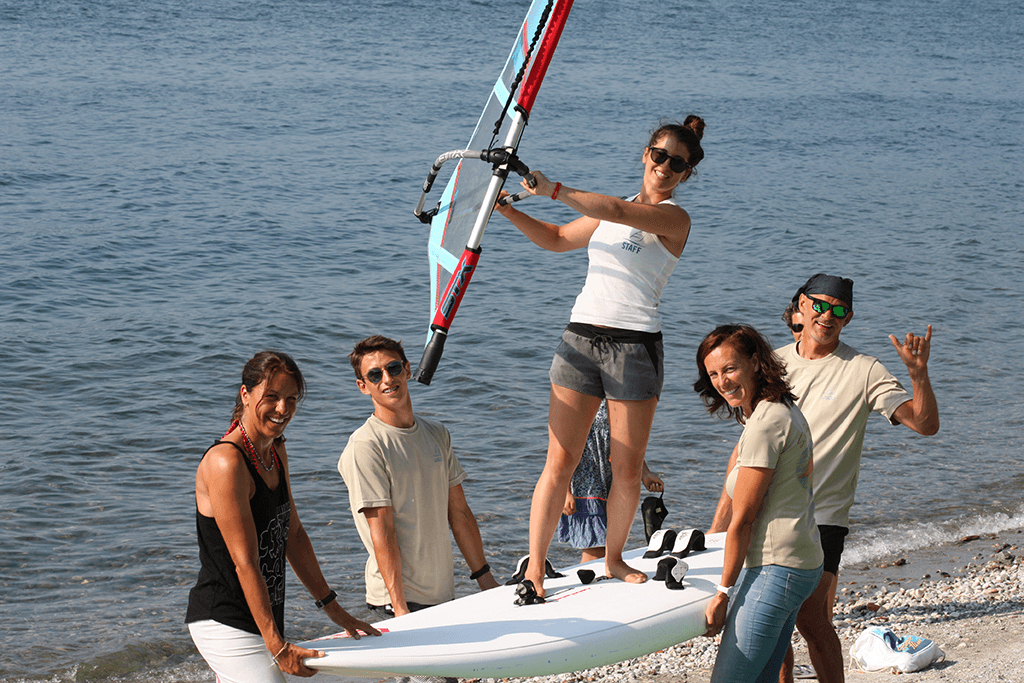 The qualified staff of the Soul Surfer is made up of instructors of various nationalities. With professionalism, energy, dynamism and simpathy the components of the Soul Surfer Team will host you and follow you in your needs. They will be at your disposal for information, rental, lessons, courses, assistance ...
Luisa Briz
Team Manager
Laureata in Scienze Motorie,
Istruttrice vdws,
School Manager vdws
" Windsurf... una Passione divenuta professione !!!
Un' esperienza unica da vivere, Vi Aspetto !"

"Meine grösste Leidenschaft ist das Windsurfen! Ich liebe es in der Natur und immer in Bewegung zu sein und dabei meine Freude und Faszination dieser Sportart anderen Menschen, egal welches Alter, weiter zu geben"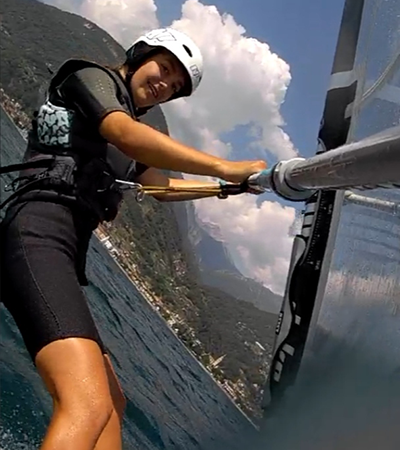 Anna
Vdws Surf Instructor
""La mia passione per il windsurf è cominciata da bambina quando per la prima volta ho messo i piedi sulla tavola. E' unica la sensazione di poter sfruttare La forza del vento per sorvolare le onde del nostro Lago di Como: mi riempie di gioia e mi spinge ogni volta a migliorare provando nuove manovre, per poi insegnarle agli altri.""
Courses
Thanks to our qualified instructors and the use of suitable and current material ... starting from scratch, improving your skills is easy. Fun is guaranteed for all ages and at every level! The group course in the company of surfers of your own level is the best and most enjoyable solution to learn and improve. The course in small groups takes place from Monday to Friday; 2 hours of lessons a day; material included.
BEGINNERS COURSE
Required skill: Knowing how to swim.

Introduced Techniques
Simulation on the ground and practice in water
Departure tack and basic jibe
Navigate in all gaits
Surf safely
Objective : Surf autonomously with light wind.
PRICE
120 minutes a day for 5 days
€ 280

Registration
Advanced I ° Liv.
Required skill: Knowing how to tack and toe with medium wind

Introduced Techniques
Correct attitude in all gaits
Turn and technical jibe
Introduction to the harness
Beach start

Objective : Navigate tack and jibe with skill.
PRICE
120 minutes a day for 5 days
€ 300

Registration
Advanced II° Liv.
Required skill: Knowing how to surf with harness
and moderate wind

Introduced Techniques
Refinement and deepening fast turn
Jibe;
harness
Beach start Table run without drift
Objective : Knowing how to conduct the board with mastery and technique in sustained wind conditions

PRICE
120 minutes a day for 5 days
€ 300

Registration
PRIVATE LESSONS
1 hour with equipment by appointment
n ° 1 Person € 90
n° 2 Persons € 65
n° 3 Persons € 60
n° 4 Persons € 55
n° 5 Persons € 50
Vdws license (Optional)
PRICE
€ 30
Per Persons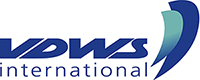 Courses Wingsurfing / Wingfoiling
You want to try out the new trend? Since summer 2021, water sports enthusiasts can also learn wingsurfing / wingfoiling with us. With the latest equipment and experienced, VDWS-licensed instructors, we will teach you the sport of wingsurfing with optimal learning success and, of course, the necessary amount of fun. With us, you will learn everything you need to know to be able to wingsurf and wingfoil independently and safely.
Beginner's course
Objective :
This course is perfect for all those who are complete beginners. But also those with previous experience in surfing,
windsurfing and kitesurfing will get their money's worth.The aim of the course is to learn how to handle the wing on boards
with daggerboards in order to be able to switch to a foil board as soon as possible.
Course content:
- Theory
- Equipment set-up
- Dry training on land with the wing
- In and out of the water with wing and board
- Handling of the wing in the water with windsurf board
- Riding courses and running upwind
Group:
from 3 people
Duration:
Monday to Thursday
Price:
300.00 € incl. Equipment
Optional:
VDWS licence 30.00 €
Registration
Foto
Vele, Vento, Lago, Alunni, Maestri
Rent
The best equipment for all levels and all ages is available !!!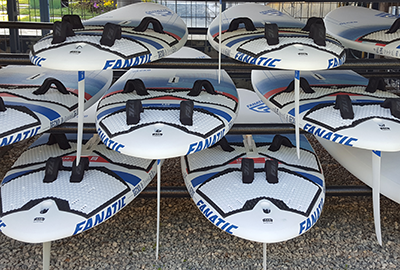 From the beginner boards (240 l.) To the Funboard boards (95 l.)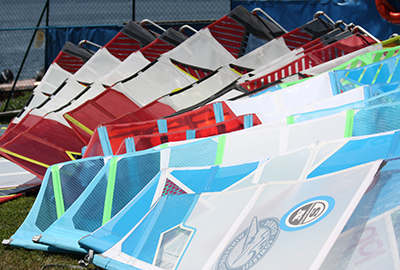 From performance sails (8 m2) to ultra-light sails for children (1 m2)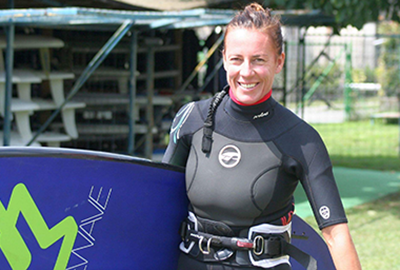 Wetsuit,
harness,
Life jacket
BOARDS -

Fanatic Skate, Fanatic Gecko, Fanatic Viper, Bic Techno, Bic Beach, HIFLY
SAILS -

Duotone (North Salis), VDWS
HARNESS -

Ion, Prolimit
Sup/ Kayak
Do you want to paddle? We rent single and double canoes if you want to sit comfortably, or if you prefer something more dynamic and fun you can try the Stand Up Paddle (SUP)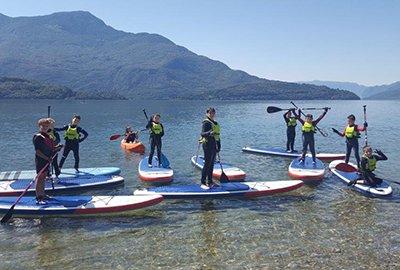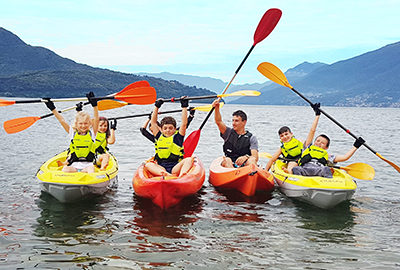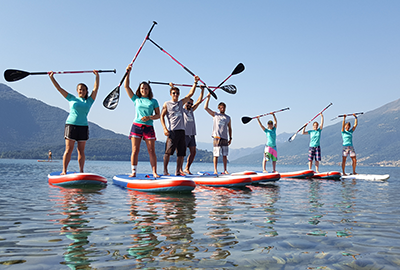 -
New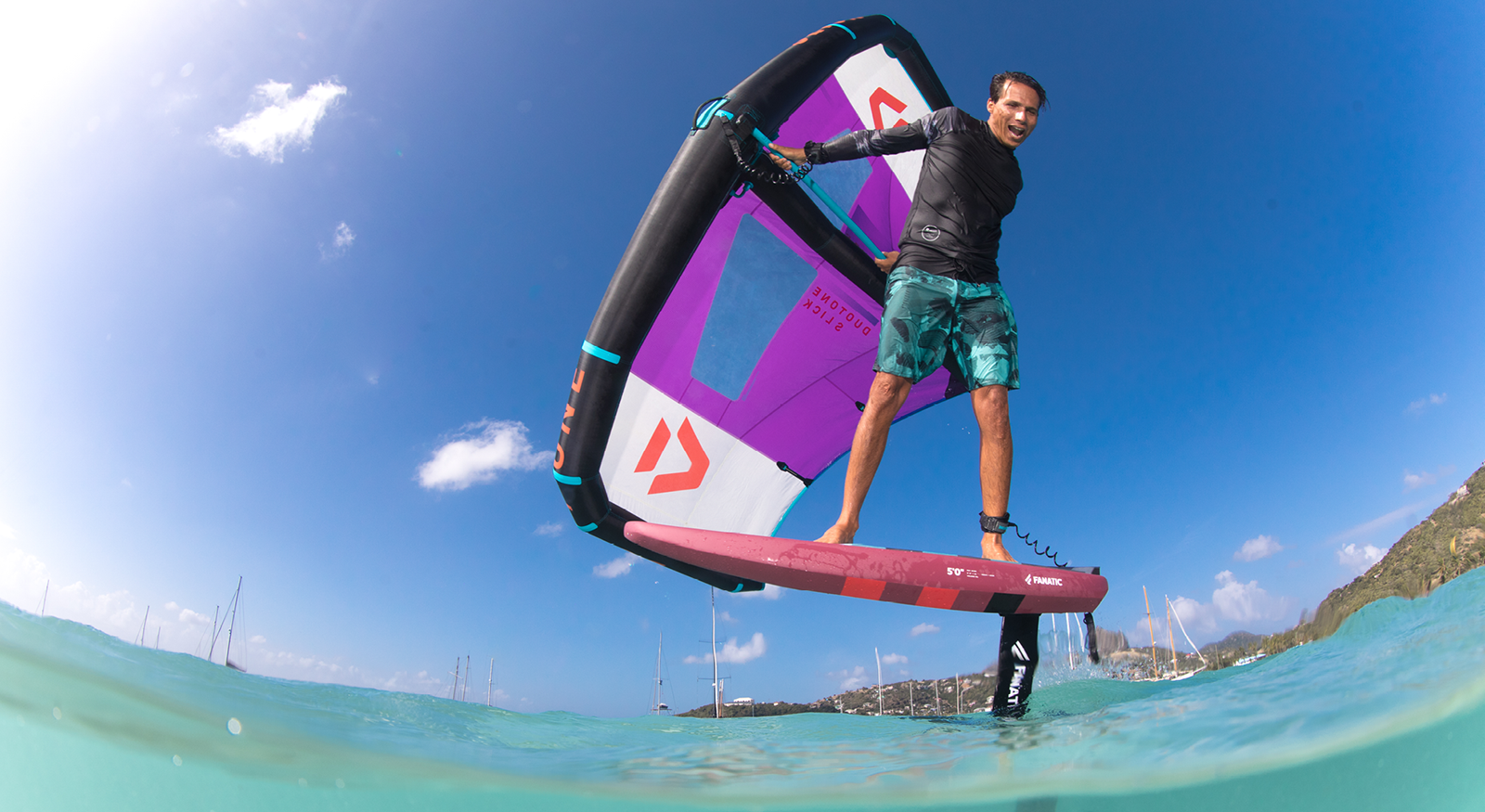 Wing-FOIL
---
New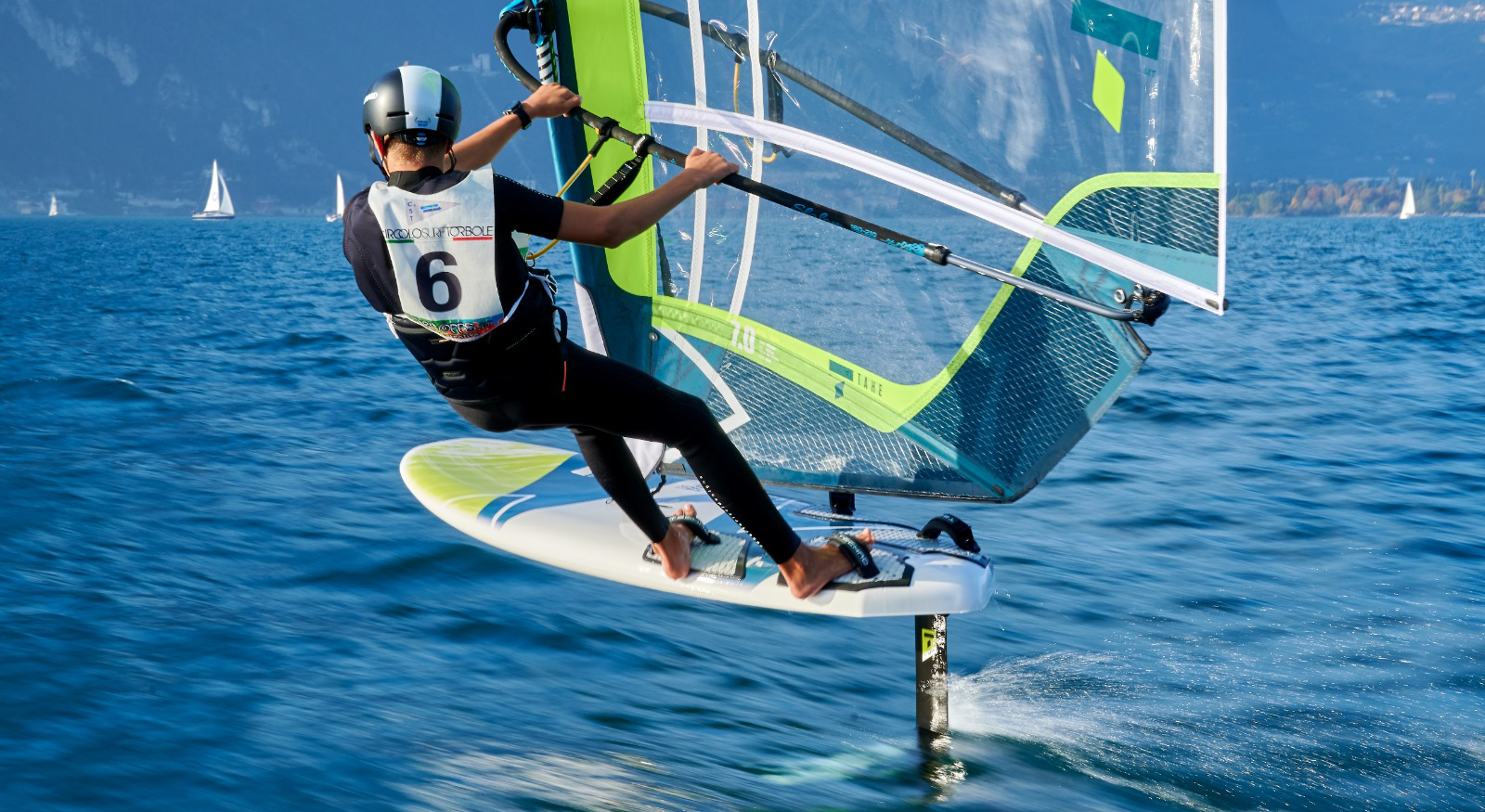 Windsurf-FOIL
---
STORAGE
You can deposit your personal equipment at our facilities and thus have the convenience of finding your rigg armed just steps from the lake.
SALE
We sell our used material of the best brands at exceptional prices. We are waiting for you to test our amazing opportunities !!!
Where we are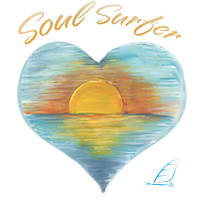 We are Open
from April to October
---